Visual
Over the years, I have made a large series of decorative papercuts, mostly with ordinary 8.5" X 11" office paper. I am in the process of digitally scanning them. Three examples are shown above. (More ART)
Verbal
Shown at left is Sixty-four-Bead String, an illustration from my short story The Decryption of Floriform X (click image to read story).
This piece of short fiction was originally written on Twitter in 140-character-or-less bursts. There were one or two minor edits. The lines were labeled with numbers to keep track of them as they flowed into the Twitter stream.
Can you decipher the 64-bead string in Line 123?
Virtual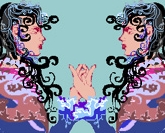 Interactivity is the soul of the Web, whether in chat rooms, collaborative applications or social networks. My main virtual character, Celia Gray (logo shown at left), has been hosting Lady on the Web since 2003. (More INTERWEB)