Hotel Whitecliff
At the Center of the Square
Serving the Distinguished Traveller Since 1782
Off-Season Rates in Effect
---
Cloudmere Players Switch Gears





The importance of being ... no, not earnest, but ironic? Miss Sally Sharpe, director and principal female lead of the Cloudmere Players, has announced a sudden change of plans: The Importance of Being Ironic, a parodic homage to the work of Oscar Wilde, is now casting, Birth of a Nation having proved too ambitious a project. "We're looking for people with style, flair and wit," notes Miss Sharpe. "Failing that, a good wardrobe will suffice."
---
The Ferns
77, Arthur's Court
Elegant Fare for the Discerning Palate
Talking Fish
Orates from Lily Pond,
Shows Good Horse Sense,
Opines Bemused Gamekeeper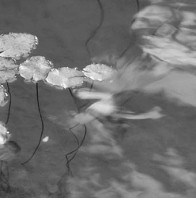 "I were just muckin' out the pool before the tourist season, like," reports Winston Fletcher, gamekeeper at Cloudmere's justly famous Castle Dargent, "when the blighter up and spoke to me." And what did the piscine phenomenon have on its mind? "'E wanted to see if I could keep kiddies from throwing bread rolls directly at 'is 'ead, come summer," Fletcher chuckled. "I allowed as 'ow I'd look into the matter." The animal in question, a 15-ounce Japanese carp, could not be reached for comment.
---
Your Ad Here
Only Five Pounds per Annum
Cloudmere Aviation
The Height of Flight
"Never a Bump --
And No Need to Jump"
Gp Capt Henry Margate, RAF-Ret.

---
Wee Ones' Corner
The Grousemoor Home for Little Wanderers is justly proud of its talented new arrival. Shown below is Tony Wethersley, 3, programming on a specially designed computer system which allows direct telepathic input. On his agenda: Recording REM-state images from dreams. "I want to fight the scary monsters in the daytime," says the genius tot.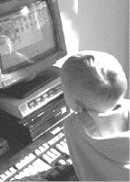 ---
Maria's Teas
One, The High Street
Mrs. Mary Tremayne, Proprietress
Try our Merrie May Delights